Common calls using the BC Data Catalogue API
---
Table of Contents
---
Resources
See the full list of value options for drop down fields, see the BCDC Schema
See all documented changes in the Change Log
---
How to get information
* You do not need an API key nor an account if you are only accessing publicly available data. All records published under the Open Government Licence - British Columbia and its variations are publicly available.
If you have questions about accessing data in the B.C. Data Catalogue, please submit a support request via our request portal.
How to get your API Key
Log into the Catalogue
Click on the hamburger/pancake in the upper right
Click on Account Settings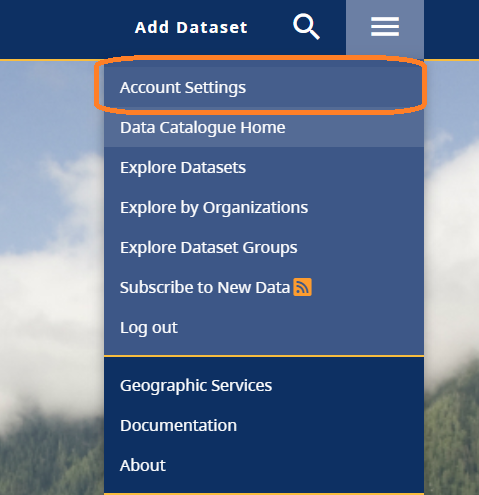 Bottom left corner is your personal API Key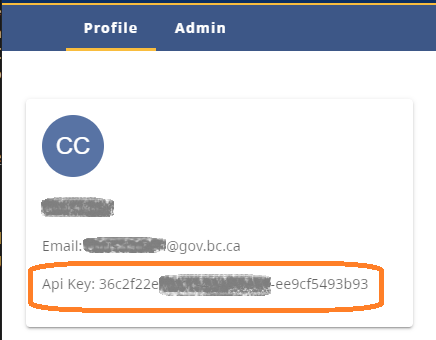 How to get names and IDs from the UI
When navigating pages in the Catalogue, the URL will contain the name
When using the Share button on those pages, the ID will be copied to your clipboard. Minus that of resource that uses only the id.
Examples:
organization name : ../organization/information-management-cfd
organization ID : ../organization/a1a9c5cc-b601-4190-b206-13ba08c54292
package (dataset) name : ../dataset/bc-data-catalogue-content
package (dataset) id : ../dataset/42f7ca99-e7f3-40f7-93d7-f2500cccc315
resource id : …dataset/bc-data-catalogue-content/resource/b67e8cfc-32c1-4fd5-be08-ce30542b2a6c
How to get your organization name
import ckanapi

ckan = ckanapi.RemoteCKAN('https://catalogue.data.gov.bc.ca', apikey='YOUR-APIKEY-HERE')

org = ckan.action.organization_show(id="information-management-cfd")
print(org['name'], org['id'])

How to get package names and package IDs within an organization
import ckanapi

ckan = ckanapi.RemoteCKAN('https://catalogue.data.gov.bc.ca', apikey='YOUR-APIKEY-HERE')

pkgs = ckan.action.package_search(fq="owner_org:a1a9c5cc-b601-4190-b206-13ba08c54292",rows=1000)
for pkg in pkgs['results']:
    print(pkg['name'], pkg['id'])


How to get the resource names and resource IDs within a package
import ckanapi

ckan = ckanapi.RemoteCKAN('https://catalogue.data.gov.bc.ca', apikey='YOUR-APIKEY-HERE')

pkg_data = ckan.action.package_show(id="b67255a7-8040-43c0-935c-d74f168af215")
for resource in pkg_data['resources']:
    print(resource['name'], resource['id'])

Common calls
Search by object_name
https://catalogue.data.gov.bc.ca/api/3/action/package_search?q=res_extras_object_name:WHSE_WILDLIFE_MANAGEMENT.WAA_TRAPLINE_AREAS_SP

https://catalogue.data.gov.bc.ca/api/3/action/package_search?q=res_extras_object_name:WHSE_WILDLIFE_MANAGEMENT.WAA_TRAPLINE_AREAS_SP
Depending on what is being used to make the call, changing the : and wrapping the object name in quotes may be needed
https://catalogue.data.gov.bc.ca/api/3/action/package_search?q=res_extras_object_name%3A%22WHSE_WILDLIFE_MANAGEMENT.WAA_TRAPLINE_AREAS_SP%22

https://catalogue.data.gov.bc.ca/api/3/action/package_search?q=res_extras_object_name%3A%22WHSE_WILDLIFE_MANAGEMENT.WAA_TRAPLINE_AREAS_SP%22
Search by bcdc_type
https://catalogue.data.gov.bc.ca/api/3/action/package_search?q=res_extras_bcdc_type:geographic

https://catalogue.data.gov.bc.ca/api/3/action/package_search?q=res_extras_bcdc_type:geographic
Search by resource_storage_location
https://catalogue.data.gov.bc.ca/api/3/action/package_search?q=res_extras_resource_storage_location:bc%20geographic%20warehouse

https://catalogue.data.gov.bc.ca/api/3/action/package_search?q=res_extras_resource_storage_location:bc%20geographic%20warehouse
Search by format
https://catalogue.data.gov.bc.ca/api/3/action/package_search?q=res_format:csv

https://catalogue.data.gov.bc.ca/api/3/action/package_search?q=res_format:csv
Search by licence_id
https://catalogue.data.gov.bc.ca/api/3/action/package_search?q=license_id:2

https://catalogue.data.gov.bc.ca/api/3/action/package_search?q=license_id:2
---
---